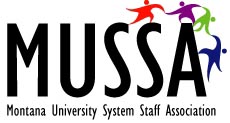 Montana University System Staff Association
Board of Regents Meeting, November 21, 2008 - Missoula
MUS Staff Associations 12:00 pm
The following are MUSSA's impressions of the day:

Representatives from the MUS Staff Associations (MUSSA) met in Missoula for their scheduled agenda time with the Regents. Julie Strobel (MSU Northern); Cory Creighton (UM Western); Shelley Hiniker and Michelle Crowe (UM); Kevin Thane, Jeannette Radcliffe, and Sara France (MSU) participated. Unfortunately, staff members from UM Helena, MSU Billings, MSU Great Falls, and Montana Tech were unable to attend. The Regents, excepting Regent Pease, were present over lunch, together with ex-officio Regent, Commissioner Sheila Stearns, Deputy Commissioner for Fiscal Affairs, Mick Robinson, George Dennison, University of Montana President, and Geoff Gamble, Montana State University President.
MUSSA members from UM and MSU attended the Regents' budgetary discussions on November 20th, and met together during that evening.
MUSSA officially convened at 7:00 am on November 21st for the first, of what we hope will become regular, MUSSA-hosted breakfast meeting held to coincide with each Board of Regents' meeting. The aim was to strengthen our work by ensuring that we are adequately and appropriately communicating with administrators and HR professionals across the MUS. Our guests included: Jim Rimpau, Vice President for Planning (MSU); Joe Callaghan, Provost and Vice Chancellor (MSU-Northern); Nicole Hazelbacker, Dean of Students (UM Western); Karl Ulrich, Provost and Vice Chancellor for Academic Affairs (UM Western), Craig Roloff, Vice President for Administration and Finance (MSU); Betsy Hawkins, Director of Human Resource Services (UM); Susan Brigggs, Vice Chancellor of Fiscal Affairs (UM Western); Sue Ost, Director of Business Services (MSU-Northern); and Teresa Branch, Vice President for Student Affairs (UM). Several others sent their apologies. Discussion was open and cooperative, many suggestions for future collaboration were made, and all the participants agreed it to have been a useful meeting, which should be repeated in the future.
After the breakfast meeting, MUSSA commenced a typical working session discussing various topics from each campus perspective. Carrying forward themes and pertinent points from breakfast, MUSSA planned for its meeting with the Board of Regents, and produced an appropriate handout.
MUSSA enjoyed a very pleasant, informal meeting with the Regents, starting at noon. Shelley Hiniker made introductions, and Kevin Thane thanked President Dennison for lunch. Sara France explained the handout voicing MUSSA's appreciation for the Regents' work to date and acknowledging the financial challenges of the coming biennium. Some of the items mentioned on the handout were informational and were not discussed by the Regents, but the theme of collaboration and seeking positive opportunities in difficult circumstances was thoroughly explored. For instance, MUSSA suggested that the increase in the number of job-seekers currently in the market offers the MUS potential for filling some of its classified vacancies, and chance to focus on retention of sustainable work forces post-economic recovery. Conversation was positive and enthusiastic, and the meeting was a fine example of the strength of MUSSA's working relations across the MUS.
MUSSA plans on another breakfast meeting with administrators and human resource professionals in Helena in March (5-6th) even if its next agenda time with the Regents isn't in March (actual date TBC).