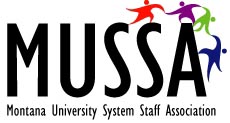 Montana University System Staff Association
MUSSA presentation to Board of Regents
January 13, 2011 in Helena, MT
MUSSA members present Tammy Yedinak and Laurie Fisher, UM Missoula, Bill Van Horn, Raechell Nielsen, and Joan Ford, MSU Bozeman.  MUSSA members met prior to the lunch presentation to the Board of Regents.  MUSSA members then discussed issues specific to their campuses and classified employees.  The group finalized the agenda for the Regents lunch presentation.  The planning meeting was concluded.
Discussion with Board of Regents
UM and MSU discussed common issues of classified staff.  In addition to the Regents, the Presidents of UM Missoula and MSU Bozeman were in attendance.  The Regents asked many question and a thoughtful dialog was held with the classified representatives attending the meeting.  The Regent specifically inquired why other campuses were not in attendance.  MSU Bozeman reported that our sister campuses could not attend but communicated via email prior to the meeting with the Regents.
Classified staff continues to be asked to do more with less staff.  MSU Bozeman noted that between fall 2006 and fall 2010 there has been a 9% increase in student enrollment and a 6% decrease in classified staff.   Both campuses noted that students had to wait for services such as Academic Advising and Financial Aid Counseling.  The Regents noted that with more students' faculty could either increase class size or offer another session.  They noted that staff does not have a similar option when handling increased numbers of students.  UM Missoula reported that they were concern about morale issues because of this continual doing more with fewer classified staff environment.
MSU Bozeman introduced Jeannie Wilkerson, Vice Chair of MSU's Bozeman Professional Council.  The Regents learned about what a professional employee is and does.  They gained a clearer understanding of the professional position and its roll on the various campuses.
The meeting was concluded and the Regents returned to the afternoon session Board of Regents meeting.