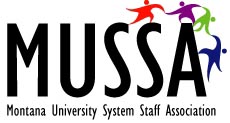 Montana University System Staff Association
MUSSA meeting notes and Board of Regents 5/19-20/2011 meeting
MUSSA meeting notes May, 2011
MUSSA members from MSU Havre, Billings, and Bozeman and UM Missoula met on 5/20/2011. In the spirit of shared governance, Tammy Yadinek, UM Missoula, agreed to take over MUSSA and begin re-defining and re-structuring the MUSSA group. To that effort the group did some brain storming.  The following ideas were discussed about what was lacking and needed to be defined:
Purpose, vision, concept, mission, areas of responsibility; what is MUSSA and what does it do?
Who are the members? Who should be included? 
Establish an annual retreat.
Gather and aggregate data and statistics from each campus, to be used in a report to the Regents.
Observations from the 5/19 & 20 Board of Regent's meeting
The main focus of this regent's meeting was in response to the State Legislature funding of higher education. The University System is dealing with a $21 million shortfall in higher education funding. To this end the regents prepared and approved a tuition increase plan. The four-year schools will raise tuition 5 percent in 2012 and another 5 percent on top of that in 2013 or about 10.3 percent over the two-year period. The Board of Regents also approved the first community college tuition hike in four years, with increases ranging from 2 percent to about 11 percent over two years. College of technology tuition will remain the same. University system leaders noted that the tuition increase is the bare minimum needed and won't be enough to fill a projected funding gap of approximately $11 million. A loss in some services is inevitable, details of which will become available as each campus prepares a budget based on the available money. The regents will review those budgets in June.