Opportunities for College Credit in High School
Highlights
Dual Enrollment provides opportunities for high school students to take college courses while still in high school.
Students take Dual Enrollment courses for either Dual Credit or College Credit Only.
Dual Credit courses award high school and college credit simultaneously for the same course. College Credit Only courses award college credit (and not high school credit) for a college course.
Montana University System colleges and universities offer Dual Enrollment courses via two delivery models: Early College and Concurrent Enrollment.
One-Two-Free
One-Two-Free offers two dual enrollment courses, or up to six credits, through the MUS to all eligible students for FREE.
One-Two-Free launched in August 2018 as a pilot program funded by the MUS to increase access to higher education for high school students, reduce education costs for Montana families, and enhance student success.

One-Two-Free also allows students who demonstrate hardship to apply for a scholarship to cover tuition for additional Dual Enrollment courses.
By the Numbers
32% of eligible enrolled high school students received college credit in the 2021-2023 school year
$2,000+ can be saved in tuition at a two-year school for 6 dual enrollment credits
6,578 students enrolled in Dual Enrollment in the 2021-2022 school year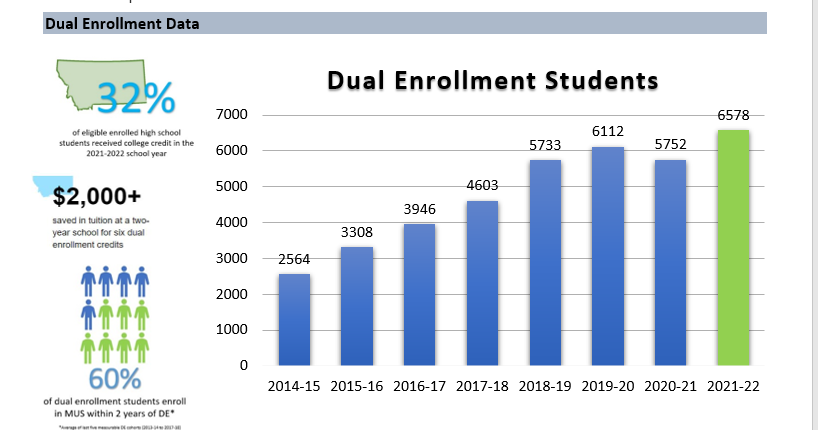 MUS Strategic Plan
+ Success Agenda Goal No. 2 (Dual Enrollment -- Increase awareness, capacity, and opportunities for dual enrollment in Montana)