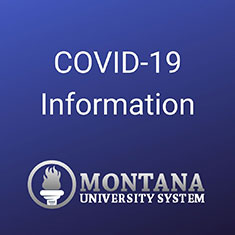 Updated April 9, 2020
Spring Semester 2020
Visiting Your Student Health Center or Other Healthcare Provider
Your health is our top priority. Please do not hesitate to seek the care you need.
IMPORTANT: If you develop fever; cough and/or difficulty breathing; and in the past 14 days have returned from a country or area with a COVID-19 outbreak OR have been exposed to someone with confirmed COVID-19, please call your campus health clinic or other provider immediately to discuss your illness and plan for how you will be seen.
If you are sick, you should take steps you normally would when sick, including focusing on caring for your health, contacting your healthcare provider if you feel you need to and not attending class or work if contagious.
Health, Wellness and Prevention
To protect patient privacy, the Montana University System cannot legally release the immediate location of individuals being screened for or confirmed to have COVID-19.
Confirmed and suspected cases will be reported by the Montana Department of Health & Human Services. Montana's Department of Health and Human Services tracks possible, negative, and confirmed cases on their website.
In the event that a member of one of our Montana University System campus communities were confirmed or suspected to have COVID-19, the campus would follow the lead of the local county health department to initiate appropriate quarantine and public health management protocols.
---
Additional Resources:
Montana COVID-19 Information Line: 1-888-333-0461
Email for Montana COVID-19 questions:

covid19info@mt.gov