Perkins General Information
The President signed the Strengthening Career and Technical Education for the 21st Century Act (Perkins V) into law on July 31, 2018, reauthorizing the Carl D. Perkins Career and Technical Education Act of 2006 (Perkins IV).
Perkins V expands opportunities for every student to explore, choose, and follow CTE programs of study and career pathways to earn credentials of value. In Montana, Perkins V starts with the 2020-21 grant cycle. Grant opportunities through Perkins V include: Perkins Local, Institutional, Reserve Fund, and Non-Trad grants.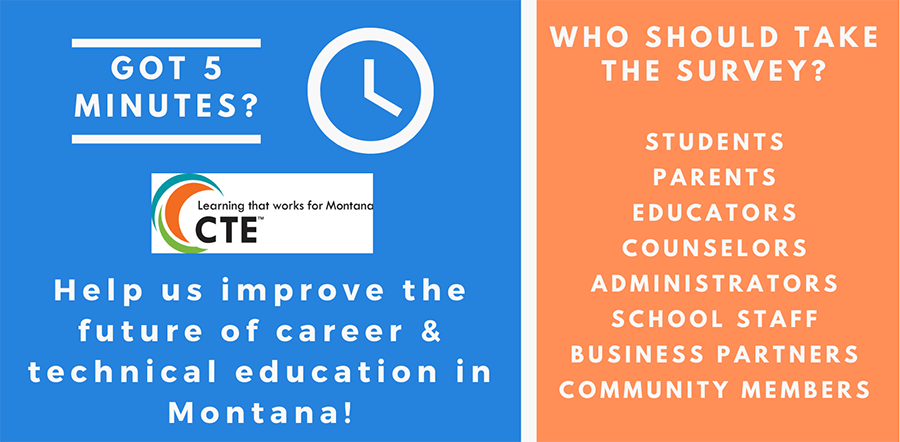 Explore the links below to learn more about Perkins V in Montana and apply for funding and grant opportunities!
Important Dates & Deadlines
---
January 31, 2023
Q2 Reports due
April 1, 2023
Perkins Nontraditional Occupations Grant opens (Ongoing approvals)
April 30, 2023
Q3 Reports due
May 1, 2023
Amendment Deadline for 2022-2023 Grant Cycle
May 26, 2023
Perkins Local + CLNA and Perkins Reserve Applications due
July 1, 2023
2023-2024 Grant Cycle begins
August 31, 2023
Final reports due for Grant Cycle 2022-2023
October 31, 2023
Q1 Reports due
November 1, 2023
Perkins performance and student data due to OCHE
December 31, 2023
Deadline for ordering major equipment
---
Contact:
For general questions and additional information, please contact:
Jacque Treaster
Director of Dual Enrollment and Career & Technical Education
Montana University System
Office of the Commissioner of Higher Education
560 N Park Ave
Helena, MT 59601
(406) 449-9135
jtreaster@montana.edu
ML Rutherford
Perkins Program Manager
Montana University System
Office of the Commissioner of Higher Education
560 N Park Ave
Helena, MT 59601
(406) 449-9128
mlrutherford@montana.edu
Ciera Franks-Ongoy
Perkins Equity and Compliance Manager
Montana University System
Office of the Commissioner of Higher Education
560 N Park Ave
Helena, MT 59601
(406) 449-9132
cfranksongoy@montana.edu
Chase Stahl
CTE Data Specialist
Montana University System
Office of the Commissioner of Higher Education
560 N Park Ave
Helena, MT 59601
(406) 449-9141
cstahl@montana.edu